Newberry Candy club! $21.99 a month
Who loves chocolate?!?!?
Most candy of the month subscriptions give you mostly hard candy, gummies or a bunch of crummy samples. But hey we want chocolate!
Every month we will select a different mix of candy to ship directly to your door. From Toffee to caramel corn to chocolate dipped nuts and caramels.
Here are a few examples of what we send out .
Imaging getting a full size package of toffee, chocolate dipped pretzel rods and chocolate covered caramels. Or a full size bag of caramel corn, a giant peanut butter cream cup and chocolate dipped nuts. Or a full size package of chocolate fudge, chocolate dipped Oreo's, and marshmallow caramels. The selection changes every month so you get an awesome surprise of CHOCOLATE! And the $21.99 includes shipping! Below are just some of the items you could get in a box!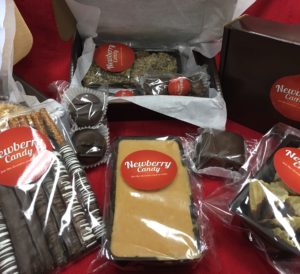 You can cancel at any time.
Candy club